"Hi, I'm Loomo,
I'm sent from the Future. "
Type:
Personal Robot Product
​
Role:
UX Designer
​
Team:
30+ People Department of Segway Robotics
​
Time:
18 Months
LOOMO is a

Mobile Robot Sidekick

, both a self balance vehicle and a personal assistant. LOOMO went on sale in the US market in April 2018. S

ince the launch, Loomo has been integrated into the lives of

1000+

satisfied customers.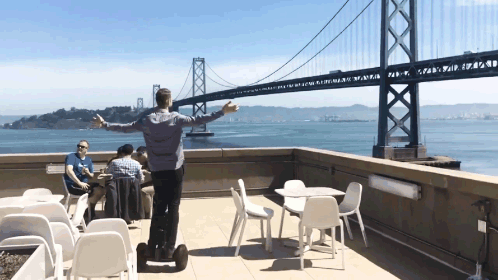 Enjoy sunlight with LOOMO
I joined the LOOMO team in May 2017, worked as UX designer and went through the whole design and market process. I worked on both

Robot Product

and the robot

Controlling APP

.
When designed each feature, I pay attention to

Multi-devices Design

(Robot system, iOS, Android), and lead a smooth experience between APP and robot itself.
While I worked on many features in the overall product experience design, I'd like to highlight the following features which I was the lead designer.
Over-the-Air (OTA) Update
Over-the-Air (OTA) Update
User testing &
Product testing
User Testing & Product Testing
This page I'd like to mainly introduce the complete design process of

Gesture Interaction

feature. Other feature design details could be found above.
Gesture interaction is a feature for quick active specified functions with gesture.
Gesture function is not just a exploration of a more natural interactive method, but also serve practical scenarios. LOOMO is used both indoors and outdoors,

in noisy outdoor environment

, voice interaction usually can not convey valid commands.
In these situations, gesture interaction is a more effective and accurate way for users to give emergent commands.
Besides, after LOOMO lunched, out team also got feedbacks in our supports web and reviews from the users that they are looking forwarded to a cool gesture feature. Gesture feature was also designed by users demand.
Is gesture the best way? I considered this question at the beginning of process.
A controller
or our
APP
could also conduct the same function. However, after consideration, I thought gesture is the right direction for quick active several core function in a outside environment. A controller or APP would be less effective.
After analyzing the function positioning, target users, and implementation methods, and design decision meeting with team, I set the goal of gesture function:
1. Easy operation flow, quickly active specific functions.
2. High accuracy of gesture recognition
3. Smooth and natural user experience
​
Customize gesture poses for potential commands, I researched positions from daily life,

especially thought about what will people do when they interact with another human

. At last, the chosen positions followed 2 rules.
1. Poses semantics match the meaning of commands
2. The posture should seem nature and comfortable
From Algorithmic to Experience
Next step: after discussion and let coworkers test for positions (to figure out do they feel comfortable when doing these positions), I made adjustments and delivered the designed positions to algorithmic team, they spend a couple of weeks for training and testing the accuracy of the positions. Then I adjusted once more time

based on the reports.
This was the gesture recognization demo I got from the algorithmic team, during the gesture design process, I closely cooperated with algorithmic and software programers, I learned a lot and had a deeper understanding about the meaning of UX design:
​
Transform the technical (algorithmic) language into User-friendly experience.
​
The work of UX designer is not only making things looks good, more important, I transform technology into practical functions, bring it to users life.
​
Excellent Experience Born from Iterations
Comparing with interface-only interaction, the gesture is more likely to influenced by Multiple Factors. UX depends on synthetical combination of interactive flow, visual& sound feedback, precise algorithms recognization and software logic details.
Before function finally released, I gave

3 Key Iterations

and multiple optimizations for this feature.
Initial Vision: Test in Demo
Select the gesture functions
Avoid overly complicated operations, the first version selects several cores, useful features.
For the initial version, I add gesture response to Idle Status, for testing initial effect.
However,
recognition sensitively affected by environmental conditions, causing False Triggering and Recognition Failure, both lead to negative user experience.
Starting Follow gesture (putting the palm on the chest) is easily triggered by similar actions. Sudden follow-up caused by false triggering is a danger event for users.
2nd Version: Solve the problem
Goals for 2nd version:
1. Security guarantee: solve the False Triggering
2. Experience enhance: adjust feedback for gesture recognition
I researched innovation interaction products, including Alexa and Google Home, and got inspiration in voice interactive products. To avoid smart assistant mistakenly think that people are talking to them, they usually be "waken up" by a waken words, same as : Hi Siri".
Why not added a waken gesture to solve the false triggering problem?
Besides, I also researched and tested other products with gesture interaction, such as X-Box, to check how could I make a more clear gesture feedback.
After research and a couple round of design thinking, I delivered

Wireframe V2.0
The first essential design is added waken gesture. The waken gesture was chose as a "Hi" gesture which usually been used in daily life.
After recognized waken gesture, the robot will active recognization mode of all gesture commands.
​
​
After gesture mode active, the robot could receive next commend. At this stage, I added a visual feedback on robot interface to show how long the gesture should be kept.
​
It's also a protection

mechanic

for robot to receive user's order, not some random position.
​
Measure the Design: Testing
After second version of design, testing was essential to measure how the adjust work. With the developed version I tested the whole exercise flow, recognization rate and especially the

rate of false triggering

.
​
​
According to the testing result, the

false triggering rate is almost zero

. As I was glad about false trigger solved, another problem occurred:
With so many insurances for false triggering, the

recognition rate went down

, which made the robot seem not do smart, and caused a negative experience.
3rd Version: Balance between Recognition Rate & False Triggering
In the 3rd version of design, to enhance the recognition, I go back to adjust the balance for better/easier user experience.
1. More agile feedback
2. Flow adjustment: For easier waken
I worked closely with software engineer and algorithm engineer, kept digging about details of required gesture recognition time, how much continuous

recognition

of images should be detected, and also the fault tolerance in the algorithm layer.
After adjustment, I delivered

Wireframe V3.4
Delivery: How did gesture work?
Without tutorial, guidance and notification, a new function is NOT completed.
Notification & tutorial - Both on APP and robot
Considering that the gesture is based on the CAMERA and FOLLOW, user's permission of using gesture control should be after unlocking & handle CAMERA and FOLLOW.
The most efficient way of teaching is to let the robot teach itself.
Robot Interactive Tutorial
After multiple iterations and testings, the gesture feature was released in October 2018.

I received positive evaluate and sincere suggestions from LOOMO support website.
The

Republic of Tatarstan President

Praised LOOMO and Gesture Function
in China Hi-tech Fair 2018