"Hi, I'm Loomo,
I'm sent from the Future. "
A Really Mobile Robot

Sidekick

,
Bring you

Fun

,

Convenience

,

Practical Function

and

Emotional Connection
Since the launch, loomo has been integrated into the lives of

Over 1000

satisfied customers, with multiple tasks.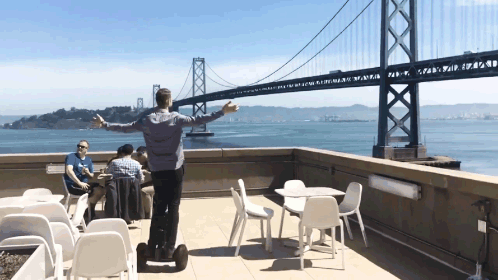 Enjoy sunlight with Loomo
Bathhouse helper
Transport items in workshop
Loomo meets the expectations of customers
Loomo achieved

1000+

satisfied customers and excellent media evaluations also defined the future of personal robots.
What did I do in the Loomo Team? I'll share

3 Parts

with you.
Story 1.
WHY A PERSONAL ROBOT NEEDS PERSONALITY?
It is easy to understand people's expectations of robots for more than just cold tools. After all, too many films and novels convey the concept of 'Robots have feelings' to people, from robots to AI.
BB8
Star Wars
WALL·E
Blade Runner 2049
In CES 2017, loomo already has some great features including Follow, Camera, etc. However, personal robot products should not only provide actual functions, but also full of emotional interactions. Our team's expectations for robots are:
Fun, Responsible, Friendly but NOT Flattering portrait.
Portrait of Loomo
Personality Dimensions
We define Loomo as a half wolf half boy, naughty, curious, occasionally making mistakes, and passionate about the items and people he likes.
We also give Loomo various emotions, sound and special preferences, which make he more vivid and interesting.
Loomo likes apple
Loomo enmotions
Besides, functions also determines his role.
Reliable shooting assistant
Inseparable follower
Efficient transportation partner
We now have features, emotions, preferences, and without a set of logic to organize these events, robots cannot have the personality, and some problems will occur.
3. Chaos - Events without priority, unordered feedback interferes with the user's true intentions.
2. Blurring triggers - People come to interact but the robot is in a daze.
1. Too active - Be active when no one is present thus robot is constantly draining.
Designing the Loomo State to support robot personality and respond to the user's expectations.
Here's my three-step:

Comb

,

Construct

and

Design

in achieving this.
As FEEDBACK is a very comprehensive composition, I'm wondering what can Loomo do to contribute to his perfomance.
Comb all elements by classification and refer to activity levels.
2. CONSTRUCT - BEHAVIOR DEFINITION
For the idle state of the robot, more definitions are needed, otherwise:
Complete the construction
Status construction: Transition relationship between status
Activity Status:
3. DESIGN - CREATION AND DETAIL
New Event: Automatically search for human
When Superman or people are looking for someone, the behavior looks like this. I hope that loomo can quickly find targets outside the field of vision while exploring, To make this action design more humanized, I designed a set of searching movements and logic .
Stop the search after finding the target, follow the target move and wait for the interactive command.
Automatically find people after the target is lost.
​
Random position principle:
1. Synthesize the random head horizontal position, with random +, - angle, random 0-75 number.
2. The angle between the two positions needs to be greater than 45 degrees.
3. The searching angle is always controlled within the range of +75 to -75.
ACHIEVEMENTS AND SUPPLEMENTS
Exploring timeouts without interaction, transforming into sleeping status.
Continue to find the target after the target lost or the interaction over.
Automatically follow people or objects (such as apples) after finding the target.
Expressing the passion of concentration, and ready to receive commands.
Priority: Define Events Dispose Based on Status
Since both mobile apps and robots can trigger events, definition of priority is essential. We define the user's last operation to the robot as the highest priority, usually the last operation on the robot-end.
Detail addition: based on the state, defines the dispose of the intersection of all events.
Meet Loomo: OOBE

(Out-of-box Experience)
BUILD EMOTIONAL CONNECTIONS from the first MEET
The design of OOBE including a

spontaneously interactive tutorial
co

nducted by Loomo and instruction about

out of package

and

starting up

, allowing users to master the basic operations of the product and establish positive emotional connections. How the OOBE did you might ask? People's sharing on Youtube explains everything.
​
​

How the OOBE did you might ask? People's sharing on Youtube explains everything.
The process of unpacking and setting up for intelligent device is a lengthy and complicated process that consists of many steps. Some of the steps are difficult and can easily cause a bad experience for users.
User sentiment ups and downs after receiving their robot
The pre-ordered customers have high expectations for Loomo, however, the complicated and difficult steps make their enthusiasm gradually decline. More

Learning Costs

required in the OOBE steps, less excitement users have.
Tutorial Mode - need a delightful teaching method for user satisfaction and later usage.
+ Quickly view key points
+ Catch user's eye
- Limited coverage
+ Comprehensive content
+ Contains safety instructions
​
- Many users do not read the instructions
Traditional metiods are not ideal
Spontaneously interactive tutorial conducted by Loomo itself
- Quickly establish emotional connections with users
- Deliver the introductions of basic operations
- Arouse users' interest in product features
INTERACTIVE TUTORIAL
Although loomo tutorial follows an established script, the user's interaction must be considered.
The script should take into account the different responds of users.
Leave Room for User Failure
TUTORIAL SCENARIO
SCRIPT
Click to view full size
WORKFLOW
Click to view full size
OUTPUT
If the user is not convenient of want to try tutorial at this time, the tutorial can be skipped with APP.
USABILITY TESTING
Listening to the end users
"Good product never excluding end users from the design process."
For collecting real user needs and feedbacks, our team organized internal testing for

Interactive Tutorial

.
Internal test is initiated every two weeks, each containing at least 5 testers close to the product portrait .
Because some tutorial steps required specified operation to pass, test users are esay to get stuck in the some step:
​
Push touch sensor: Difficult to trigger push touch sensor
Exit touch mode before pushing displacement
Difficult to stabilize touch mode
Voice waken/voice command: If the voice recognition peogram is collapse, the process cannot continue
Auto-shot: If the camera module cannot be turned on, the process cannot continue
Balance Point Principle : Leave Room for User Error
As the tutorial process becomes more strict, the user's learning effectiveness gradually increases, but too strict tutorial will lead to negative user experience.
ITERATIONS: BASED ON FEEDBACK COLLECTION
VERIFY: ITERATIVE OPTIMIZATION EFFECT
After

6 iterations

, in later internal test of May 2018, the tutorial is the most satisfactory and favorite function for users in synchronization functions.
Excerpt from May 2017 internal test report
Evaluation Standard: SUS(System Usability Scale)
The SUS provides a "quick and dirty", reliable tool for measuring the usability. It consists of a 10 item questionnaire with five response options for respondents; from Strongly agree to Strongly disagree. Originally created by John Brooke in 1986.
Calculating method:
Determine the conversion score for each question, ranging from 0-4, with an average score of Xi for each question.
Conversion scores calculating:
For the positive questions: original score minus 1 (Xi-1), for the negative questions: 5 minus original score (5- Xi).
Total SUS score: added all conversion scores and multiplied by 2.5 . (Ranges from 0 to 100 and is divided into 2.5 increments.)
SUS of Interactive Turorial
The

Republic of Tatarstan President

Praised Loomo and Gesture Function
in China Hi-tech Fair 2018
WHY GESTURE
Gesture function is not just a exploration of a more natural interactive method, but also serve actual application scenario.
In noisy outdoor environment, voice interaction usually can not convey valid commands.
Gesture interaction is more effective and accurate way.
DEFINE GETURE POSES
Customize gesture poses for potential commands,
​
1. Poses semantics match the meaning of commands
2. The posture should seem nature and comfortable
FROM ALGORITHMIC TO EXPERIENCE
Transforming the algorithmic language (recognition boxes on the image),
into experience under the user's cognitive range.
Before start the UX process, I tried the recognition effect on algorithm dome.
And preparing for turning techniques into practical functionality.
algorithmic interface
EXCELLENT FEATURE BORN FROM ITERATIONS
Comparing with interface-only interaction, the gesture interaction is more likely to influenced by

Multiple Factors

. UX depends on synthetical combination of interactive flow, visual& sound feedback, precise algorithms, software logic details.
Before function finally released, I gave

3 Key Iterations

and multiple optimizations.
Initial Vision: Test in Demo
Select the gesture functions
Avoid overly complicated operations, the first version selects several cores, useful features.
Auto-shot
Start Follow
Stop Follow
For the initial version, I add gesture response to Idle Status, for testing initial effect.
However,
recognition sensitively affected by environmental conditions, causing

False Triggering

and

Recognition Failure

, both lead to negative user experience.
Starting Follow gesture (putting the palm on the chest) is easily triggered by similar actions. Sudden follow-up caused by false triggering is a danger event for users.
2nd Version: Turn Algorithm to Function
Design Core:
1.

Security guarantee

: solve the False Triggering
2.

Experience adjustment

: Feedback for gesture recognition
Investigated and tested other products with gesture interaction, e.g.

X-Box
2

solutions for

False Triggering
Test result:
3rd Version: Balance between Recognition Rate & False Triggering
In order to avoid misidentification, I added a lot of restrictions to the identification, as a result, the recognition became difficult as well:
In the 3rd version, I go back to

Adjust the Balance

for better/easier user experience.
1. More agile feedback
2. Flow adjustment: For easier waken
I worked closely with software engineer and algorithm engineer, kept digging about details of required gesture recognition time, how much continuous recognizition of images should be detected, and also the fault tolerance in the algorithm layer.
GESTURE TUTORIAL
Without tutorial, guidance and notification, a new function is NOT completed.
Notification & guidance of new function
Considering that the gesture is based on the CAMERA and FOLLOW, user's permission of using gesture control should be after unlocking & handle CAMERA and FOLLOW.
Gesture Tutorial
The most efficient way of teaching is to let the robot teach itself.
RELEASE
After multiple iterations and tests, the Gesture feature was released in Oct. 2018
And I received positive evaluate and sincere suggestions.